First week
WELCOME PARTY
"Pálinka & Pogácsa the IDW style"
Wednesday July 5. 20:30
TAMARA GVOZDENOVIC: Tombés
Tombés, a short solo inspired by Dante's Inferno as well as the paintings of Jerome Bosch, is essentially a corporeal play that shows a multitude of characters enclosed in the performer's body. With impressive virtuosity, Tamara makes visible their struggle to rise to the surface. Her movements are complex, fine, precise, sensual and yet their attempts keep failing:
She seeks the transition from greatness to fall and from decay to rebirth. We witness the performer's bodily transformation, a schizophrenic battle that is slightly disturbing as images appear: ideas of hierarchy, power, representation.
Which part of her will have the upper hand and will be able to assert itself, to gain height?
Choreography & Performance: Tamara Gvozdenovic
Original Music: Florence Bujard
Production: Le Facteur Switzerland
Co-production: Reso Danse Suisse, TanzFaktor Switzerland
Support: Palace Bruxelles, Garage29 Bruxelles
Duration: 15-20′.
FENIA CHATZAKOU & CSENGER K. SZABÒ: Still love
Still Love is a duet about relationships. Our individual stories come into dialogue through physical interaction in a playground-like environment, where the balancing of maculine and feminine aspects takes place in both individuals. A landscape of states emerges, and our presence emanates through moment to moment responses, that make up the coherent arch of narratives and meaning. An ever- growing physicality anchors us in space, and helps our emotions sublimate into differently coloured atmospheres. We play games to learn anew and to reinvent our love.
Creators and performers: Fenia Chatzakou & Csenger K. Szabó
CREATION GROUP SHOWING
The dancers of the CREATION GROUP will present what they have created together with the choreographer Emanuel Gat.
CLOSING PARTY
IDW 10 YEARS BIRTHDAY PARTY
Saturday July 8. 11:00 - 18:00
A FAMILY LIKE AFTERNOON BIRTHDAY PARTY CELEBRATING THE PAST 10 YEARS OF IDW BUDAPEST WITH SURPRISE PROGRAM HOPEFULLY INCLUDING MUSIC, COCKTAILS AND GULYÁS…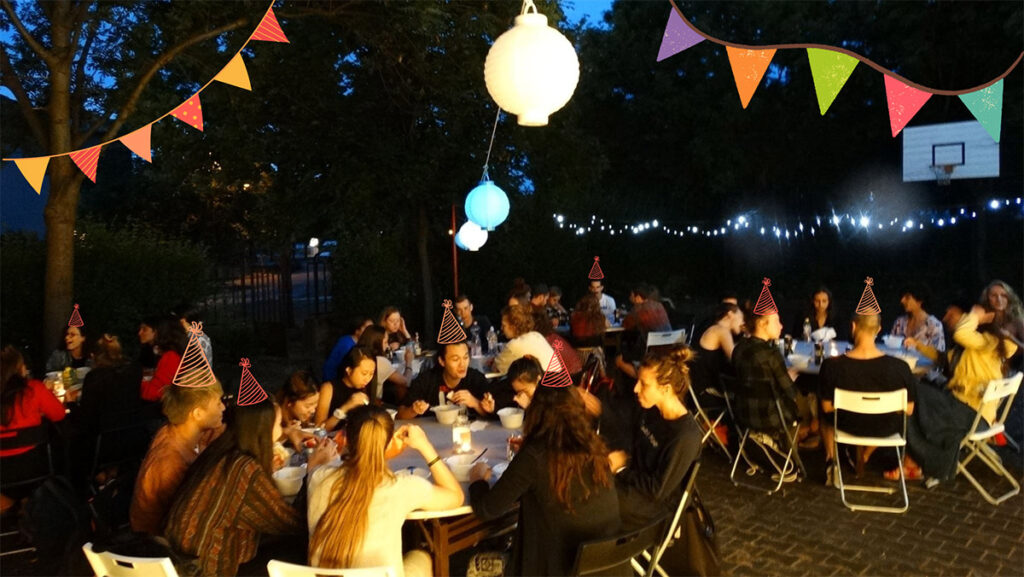 SECOND WEEK
WELCOME PARTY
"Pálinka & Pogácsa the IDW style"
Wednesday July 12. 20:30
EMESE CUHORKA, CSABA MOLNÁR: Masterwork
Emese Cuhorka and Csaba Molnár's duet MASTERWORK is based on cultural references and whimsical movements. Through a series of vignettes, the piece explores the ways in which the body can rid itself of the cultural meanings and symbols that have been imposed on it over time. Using objects as movement-blocking costumes, the body reshapes its autonomy in a flurry of functional obstructions. Our body is a unique masterpiece, created by ourselves and by the environment. By modifying the body, Cuhorka and Molnár manipulate the environment and invoke the freedom to redefine.
Concept, choreography : Emese Cuhorka, Csaba Molnàr / Performance : Emese Cuhorka, Csaba Molnàr / Sound: Abris Gryllus / Lighting designer: Kata Dezsi / Costume: Csenge Vass / Supported by Zoltan Imre Program, National Cultural Fund of Hungary, SIN Arts and Culture Center, Workshop Foundation, Trafo – House of Contemporary Arts, Off Foundation and Collegium Hungaricum Berlin
SUB.LAB.PRO The Ensemble Program
Coming soon…
CLOSING PARTY
DJ set by Dumbits