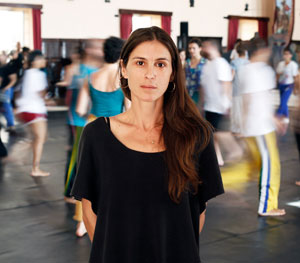 Evangelia Raidou
DIMITRIS PAPAIOANNOU COMPANY
Born in Corfu (GR), in 1977. Graduate of the State School of Dance (Athens).

She has collaborated with various dance companies and directors in Greece and abroad, amongst them with Robert Wilson, Dimitris Papaioannou in the works: Medea 2, Nowhere, The Garden, Origins, The Great Tamer, Opening & Closing Ceremony - ATHENS 2004 and with Alexandra Waierstall where she is a close collaborator as a performer and assistant since 2005.

Till today she is performing in Theaters and major artistic festivals around the world.
She has also collaborated with Giorgos Lanthimos in the film Kinetta and Athina Rachel Tsangari in the films, Attenberg, The Capsule and 24 frames per second.

She is co-founder of Garage Performing Arts Center based in Corfu – Greece and she is leading workshops for Professionals in the field of Performing Arts in Greece and abroad as well as classes of Contemporary dance techniques for amateurs that love to explore physical movement.